Translation pending: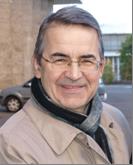 Professor Abert Krasheniuk – MD, Doctor of medical Sci, Academy of Hirudotherapy Ltd., Saint Petersburg, Russia
Graduated with honors from the 1-St Leningrad medical Institute named academician I.P.Pavlov (1971), and in 1974 – graduate biochemistry of the same Institute. The Creator of the first in the world purified live influenza vaccine, which was inspired more than 4.5 million people, without the expressed graft reactions in vaccinated people.
Creator of the first in Russia and in the world of the Department of Hirudotherapy and Natural cures, (1996), transformed in 2007 in the Academy of Hirudotherapy, headed by now. The founder of his own scientific school of hirudotherapy in Russia, with the author's systematic approach in hirudotherapy. They trained about 300 гирудотерапевтов for Russia, CIS countries, Germany, Turkey, Mongolia, the Republic of South Africa.
Author of more than 160 scientific publications in the field of biochemistry, virology and hirudotherapy, 26 inventions and patents, co-author of 4 industrial regulations on the production of vaccines, inventor of the USSR.
He was awarded medals R.Virhow, Robert Koch Institute, diploma «Honorary scientist of Europe» of the European Academy of natural Sciences. President of the Association of hirudologist St. Petersburg, honorary member of the British Society hirudologist.